Where to put forms and vouchers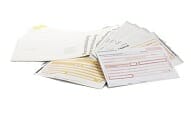 The paperless office in economy and administration is generally still a pipe dream – the paper flow has rather been intensified. Therefore INKiESS is offering the well-thought-out Form and Voucher System.

A MODULAR SYSTEM

INKiESS voucher compartments are used on reception desks of, hotels, doctor's practices, hospitals etc. as well as In usual offices at information desks and so on. The certain elements for different paper sizes can be combined in several variations.
THE FORM SPECIALIST

On all types of desks as well as counters, forms, leaflets and brochures can be made available for customers with the help of the form compartment FF 4-2.