Money handling with INKiESS

Money handlings devices for coins + notes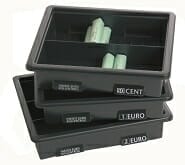 Money handling at cash desks – especially with respect to coins – is often a time-consuming and laborious task. There are considerable possibilities to rationalise work if "correct" devices are utilised. The INKiESS product range offers a number of models that facilitate cash handling. Transport, sorting, rolling, checking, storing – no problem with INKiESS.

The coin roller MR 8 facilitates the making of coin rolls. On one side there is a supporting pin with marks showing the margin width of paper, the sloping roll­ bars ascending to the other side prevent coins from falling over.

INKiESS SiCHTBOX for interim storage of EURO coins. Coins should be counted before. Available for 2 € to 10 C. Capacity: 2 € and 1 € = 3 coin rolls approx. 20 C and 10 C = 2 coin rolls approx.

INKiESS GERO for counting and ready-to-hand storage of coin rolls. Consists of 2 parts, 1 part for 2 € to 20 C and 1 part for 10 C to 1 C. 2 lids for transport (extra accessory).

Roll storage containers made of extremely durable material for transport and storage of EURO coin rolls at counters and in safes. Clearly arranged stock of rolls, customary capacity of 40 rolls (50 C) or 60 rolls (all other denominations). Stackable due to robust continuous rim.

Roll insert RE 6 with 6 compartments for ready-to-hand storage of coin rolls in drawers of cash desks. Due to the sloping design, the rolls (dropping to the front) can always be taken out easily.

Money tray Z 2 with corrugaed inside bottom to facilitate the removal of notes and coins. Money trays are designed to be stacked vertically.

SSM 30 to filter dirt off coins before counting. For a failure­free operation of coin handling machines.

Note strap container BB 30/10 for storage of note straps and key cards in vertical or horizontal position, with 10 compartments.