Perfect support by INKiESS in assorting of:

The paperless office in economy and administration is generally still a pipe dream – the paper flow has rather been intensified. Therefore INKiESS is offering the well thought out Form and Voucher System.

INKiESS Voucher-System – as individuell as your needs!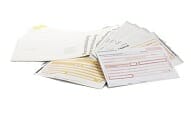 The accumulation of vouchers in financial institutions has not diminished in spite of many efforts. Since the number of vouchers cannot be reduced on a medium-term basis, their inexpensive and quick processing is of decisive significance. The same applies to all other industries with accounting activities, e. g. insurance companies.
A large variety of vouchers of different sizes are present at desks in a financial institution. This diversity can be organised and made ready-to-hand with the help of elements of the voucher compartment system (BF). Also suitable for hotel receptions, doctor's surgeries, hospitals and travel agencies as functional organising elements. Fastener (optinal) to connect voucher compartments sideways

The voucher compartments can be configured to fit evenly in height.

DAS BAUKASTENSYSTEM

Conceived as modular system in formats DIN A4, A5 and A6 a lot of different combinations are possible.

Die Belegefächer sind in den Farben Graphitschwarz und Lichtgrau lieferbar, Modelle BF 1 und BF 2 nur in Lichtgrau.

DER FORMULARSPEZIALIST

On all types of desks as well as counters, forms, leaflets and brochures can be made available for customers with the help of the form compartments FF 4-2.

DER MEHRZWECKSPEZIALIST

The multifunctional container MZB 7 is a universal special edition with 7 compartments for different form and voucher sizes. Label area on the front side. Nonslip base.
3 compartments 16 x 4 x 8 cm
3 compartments 21,5 x 4 x 8 cm
1 compartment 13 x 5 x 8 cm
(w x t x h)
Outer dimensions: 23,5 x 28,0 x 9,5 cm (w x d x h)