Perfect support by INKiESS in assorting of:

For sorting and storing of credit cards, key cards etc.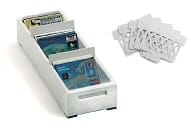 Lösungen zur übersichtlichen Aufbewahrung von Giro-, Kredit- und Kundenkarten sowie
Schlüsselkarten (Key-Cards).

Card container KB 3 is intended for well-organised and distinct storage of credit cards, loyality cards, key cards etc. They feature 2 individually insertable partition walls. Additional partition walls are available on request as sets of 5 pieces.

INKiESS Rolljalousiekassen bieten …
Note strap container BB 30/10 for storage of note straps or Key Cards in vertical or horizontal position, with 10 compartments.