INKiESS – your partner for cash logistics in Europe!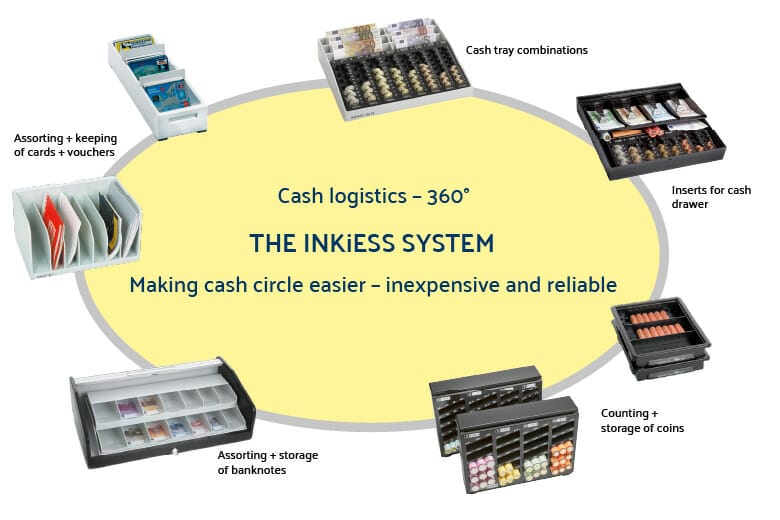 Aswell for you – INKiESS is offering the right product

The considerable INKiESS sales range – Made in Germany – is comparable to a large modular system and therefore extraordinary variable. Between basic models and foreign bank-note inserts to roll top cash boxes several components are always put to an ensemble according to requirements. By dint of special counting cash trays solutions for country-specific currencies are available. In case of currency change or coin modification cash boxes can easily be updated by change of coin inserts.

INKiESS coin holders for handling lots of coins

The REKORD series was developed for handling bigger quantities of cash. Space-saving and individually combinable.

INKiESS coin holders for handling few coins

We have developed the MiNiKORD series for handling smaller amounts of cash. Space-saving and individually combinable.

INKiESS – Inserts for cash drawer

For many well-known cash register systems we are producing cash draw inserts which are simplifying cash handling.
INKiESS cash drawer inserts are counting coins while coin handling, offering a considerable additional benefit that is not available with standard drawers.
At closing time, the target and actual inventory must be determined. With INKiESS coin holders and coin trays the annoying coin counting is unnecessary. (No software costs).
The coin inventory can be read off coin holder scales anytime, lasting less than two minutes independent of coin quantity.

By the way … INKiESS coin holders are recyclable.